Used Boats: Dredger:
291
Adverts Displaying:
11
-
20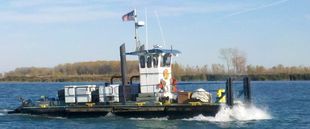 1987 42' x 14' x 3' STEEL SHUGART PUSH BOAT -MFG BY SHUGART MANUFACTURING -VESSEL IS COMPRISED OF 4 SECTIONS THAT ARE PINNED TOGETHER -VESSEL CAN BE PINNED TO SHUGART TYPE SECTIONAL BARGES -PILOT HOUSE AND ENGINES ARE EASILY REMOVED -VESSEL IS TRUCKABLE -ALL EQUIPMENT/MACHINERY IS ABOVE DECK - NO BILGE - HULL IS SEALED -POWER: 2 DETROIT 471 POWERING HYDRAULIC AZIMUTHING TYPE PODS -KAPLAN STYLE PROPELLERS IN NOZZLE/POD -REMOVEABLE PUSH KNEES WITH D-RUBBER FENDERING -REMOVABLE SAFETY RAILINGS AROUND PERIMITER -2 HYDRAULIC FACING WINCHES FOR BAR...
read more
Year:
1987
Length:
42'
Location:
Michigan USA
Price:
$136,000

View Details
1964/2010 28' x 10' x 27" Wood Chris Craft Corinthian Express Cruiser - Completely Restored Custom built hardtop & flybridge Boat was stripped to bare wood, any damaged wood was replaced including new transom. Construction material: 1/2" marine plywood Frames: White oak Bulkheads: Fir marine plywood Last survey: 2008 Headroom: Wheelhouse - 7', Cabin - 6'6" Gross tonnage: Under 5 tons Net tonnage: 7,163 lb Engines: Twin 305 Chevy gas engines, Model STND/OPP, year 2009, 230 hp, used 4 hours Engines have custom center rise manifolds T...
read more
Year:
1964
Length:
28'
Location:
Ontario Canada
Price:
$39,900

View Details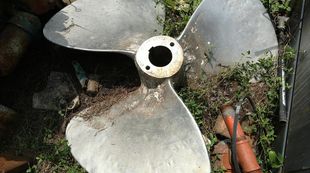 48" x 36" 3 blade Stainless Steel 5" bore Located in South Carolina...
read more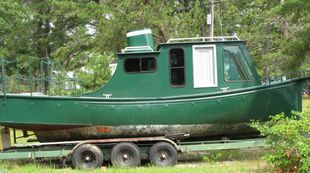 1928 26'6" x 8' x 3.6' Steel Replica Tugboat 27' tugboat replica Boat was originally a lifeboat on a Great Lakes ferry, so has hardly ever been in the water. All supporting and historical documents will be supplied to buyer at time of sale. Original boat is constructed of 1/4" steel Original hull is galvanized at waterline Stern section and wheelhouse were professionally added and are constructed of 1/8" steel plate Original hull is riveted and was built in Scotland in 1928 NO rust or weak spots and NO leaks. Dimensions: 26'6" x 8'...
read more
Year:
1928
Length:
26' 6"
Location:
Massachusetts USA
Price:
$19,950

View Details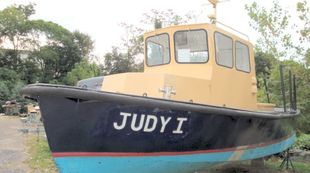 1993 26' x 11' x 3.5' Steel Twin Screw Work/Tow Boat 9 gross tons 2 x 4-53 Detroits with low hrs Propellers: 24" x 24", 4 blade props Cruising speed: 16 kts Maximum speed: 18 kts 200 gal fuel capacity. Twin 100 gal tanks, Duplex Raycor 1000 filters Hydraulic Steering Electronics: Raytheon Radar, Depth Sounder, VHF Running and tow lights Trailerable Originally was used to move a 110' x 30' barge with 40 ton crane Located in New York State Price recently reduced to $60,900 USD Scruton Marine Services - File No. W2188 Detail are deemed to be corr...
read more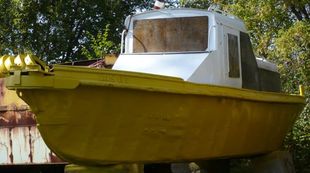 33' X 10' Workboat With Winch Cummins motor Fitted with a winch Located in Quebec Price: $13,250 CDN...
read more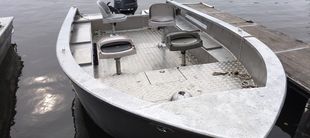 New 19′ x 8′ Aluminum Work/Fishing Tiller Boat Price: Base model starts at $25,000 CDN Fully welded 3/16″ aluminum hull Rated for 90hp Self bailing floor/sole drains overboard Large waterproof storage areas in bow and sides and covered battery storage in transom Waterproof breaker panel LED nav lights Built in fuel tank with gauge Capacity 5 people Custom options available Location: Western Canada File ref W2394...
read more
Year:
2020
Length:
19'
Location:
Manitoba Canada
Price:
$25,000

View Details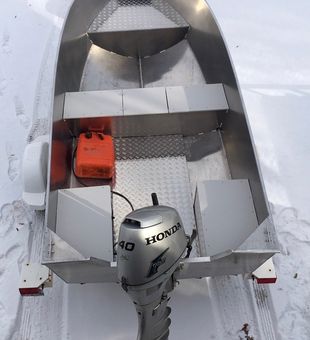 New 15′ x 68″ Aluminum Work/Fishing Tiller Boat Price: Base model starts at $6,500 CDN Fully welded 3/16″ aluminum hull 20″ Transom Capacity 2-4 people Options available: custom lighting and power for electronics, mounts for fish finders and trolling motors, flat floor/sole, non-skid coatings on sole and stepping surfaces, removable seats or cushions, extended bow deck and storage compartment, other custom options available! Location: Western Canada File Ref W2393...
read more
Year:
2020
Length:
15'
Location:
Manitoba Canada
Price:
$6,500

View Details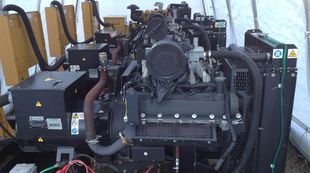 (3) Natural Gas 60KW Gensets Price: $10,500 CDN each 3 available 60KW, 208/120V 3 phase Skid mount Engine: Ford 10 cylinder Surplus test hours only Located in Quebec File G2315...
read more
1968 42.5' x 14.5' x 3'10" Ex U.S. Army Corps of Engineers Crew Boat Engines: Twin 8V-71 Detroit Diesel engines - total 600 hp- to be installed Transmissions: Twin Allison transmissions Generator: 20KW genset Fuel capacity: 1,000 gal Accommodations: No Head: Yes COI: This crew boat was used by U.S. Army Corps of Engineers and was not subject to COI Additional information: The forward hull is fitted with an angle iron spray rail in way of the port and starboard sides. Fendering consists of a split pipe aluminum rub rail located in way of the deck elevation. Addi...
read more
Year:
1968
Length:
42' 6"
Location:
Ohio USA
Price:
$155,000

View Details